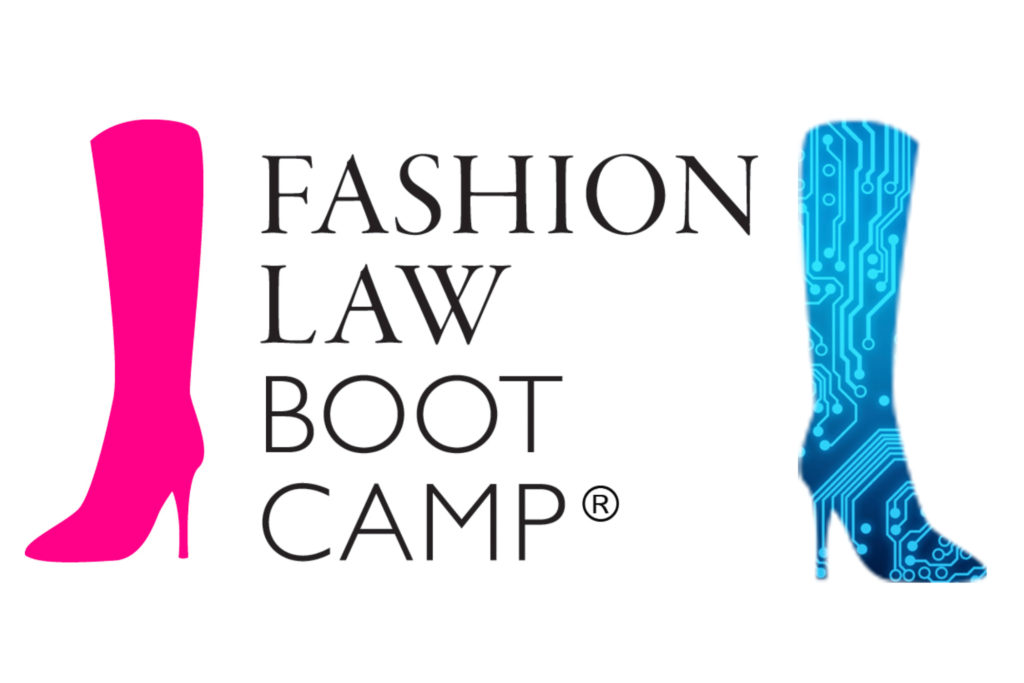 Welcome to Bootcamp! The Fashion Law Institute's unique annual Summer Intensive Program, fondly known as Fashion Law Bootcamp® and now in its 7th year, is your opportunity to experience the newly defined field of fashion law outside of the regular law school curriculum.
The next edition of Fashion Law Bootcamp is scheduled to take place iin San Francisco and Cupertino from July 26-28, 2017, and it will focus on fashion law and technology, including intellectual property, wearables, licensing, privacy, supply chain, and social media issues. If interested, please email for additional details!
Fashion Law Bootcamp will also be offered once again in New York in 2018, with more details to be announced after the Special Edition this July.
Fashion Law Bootcamp is run by Professor Susan Scafidi, Founder and Academic Director of the Institute, who pioneered the field of fashion law. She is the first professor to create a course in the area and is internationally recognized for her expertise. The program will also include guest lecturers from the fashion industry, and participants will also have the opportunity to meet industry insiders at additional events.
Fashion Law Bootcamp® is open to lawyers, fashion industry professionals, law students, and others in the U.S. and abroad who are interested in broadening their knowledge of the law and business of fashion. The program is an excellent way for fashion industry professionals to gain a more comprehensive understanding of the legal issues that they deal with on a regular basis, or for practicing lawyers to expand their current practice or even jump start a change in career. Individuals who have not yet had academic or practical exposure to the law and business of fashion, including design students and other undergraduates entering their final year of study, are eligible to apply but must have a demonstrated scholastic aptitude and willingness to take on the challenge of studying legal materials.
FASHION LAW POP-UP CLINIC - PRELIMINARY QUESTIONNAIRE AND WAIVER
APPLICATION PROCEDURE
The brief application form is linked here. Completed applications are reviewed as they are received.
CREDITS 
Law students: Up to 2.0 law school credits for the East Coast edition (if granted by your home institution; for additional information, please email bootcamp@fashionlawinstitute.com before applying).
Lawyers: Both newly admitted and experienced attorneys will receive a maximum of 28 transitional and non-transitional, professional practice New York State CLE credits, for the New York Edition, and for the West Coast edition, 12 classroom hours, California and 14 hours, New York.
CERTIFICATE
Certificates of completion will be awarded to all participants at the conclusion of the program.
VISA
If you are not a U.S. citizen or legal resident and are in or will enter the U.S. as a non-immigrant, you may need a visa to attend Fashion Law Bootcamp. Please email us for more information.
FOR ADDITIONAL INFORMATION about Fashion Law Bootcamp, please email bootcamp@fashionlawinstitute.com.
TENTATIVE DATES
East Coast: May 30 to June 9, 2017
West Coast: July 26-28, 2017
FEE
East Coast: $3,900
West Coast: $1,950 ($975 if attending both East Coast and West Coast editions)
The fee includes all expenses associated with the program, including printed materials and special events.
DEPOSIT
A $500 deposit is due with the application for the East Coast edition or both Bootcamps; the deposit is $250 for just the West Coast edition. The deposit is applied toward the program cost and is non-refundable, unless not accepted into the program.
PAYMENT
If you wish to pay online separately from your submitted application, please click one of the following options: deposit, balance after deposit, or payment in full.
If you would prefer to send a check or money order, please make it out to "Fashion Law Institute" and send it to the following address:
Fashion Law Institute
at Fordham Law School
150 W. 62nd Street
New York, NY 10023